Classic Horror Movie Trivia Game

This is a great Halloween game that can be played by adults or teenagers at your next Halloween Party. Copy and paste the questions with their options into a word document. Print as many as you will need for your party. Copy and paste the answers into another word document and print one copy for the host, so you can check your guest answers.
When your guests are playing the game. Have them circle the correct answer. Make a ribbon or certificate for the best "Horror Movie Buff" to give as a gift to the winner. I have tried to make some of the answers pretty easy for those guests that don't watch horror movies that often and tried to have some tougher questions for the horror movie buff. Hope you enjoy this game as much as I enjoy making it for you.
What was used for blood in the movie "Psycho"?

Catsup
Corn syrup and food coloring
Chocolate Syrup
Real Blood

The movie "When a Stranger Calls" is based on which urban legend?

Some one hiding in your backseat
The kidney thief
The babysitter and the stranger upstairs
The ever ringing telephone

In the movie "Carrie", how does Carrie kill her mother?

Burns her
Hangs her
Knifes her
Shoots her

What was the name of the boy who drown in "Friday the Thirteen"?

Billy Scott
Jeremy Willis
Jason Vorhees
Mikey Riese

What horror movie featured a gourmet cannibal?

Friday the 13th
Texas Chainsaw Massacre
Silence of the Lambs
Burnt Offerings

Which movie, starring Brad Pitt, featured the Seven Deadly Sins from the Bible?

Fear No Evil
Seven
I Know What You Did Last Summer
Saw

What Horror movie makes you believe that everyone has died, when they have not?

Friday the 13th
Nightmare on Elm Street
April Fool's Day
Carrie

Who was the first to play Dr. Frankenstein's Monster in the movies, in 1931?

Boris Karloff
Bela Lugosi
Charles Ogle
Charlie Chaplin

Who was the first to play Dracula in the movies?

Charlie Chaplin
Boris Karloff
Charles Ogle
Bela Lugosi

What movie is a musical spin off of the movie Frankenstein?

Frankenstein's Daughter
Son of Frankenstein
Bride of Frankenstein
Rocky Horror Picture Show

What famous villian stalks children in their dreams?

Jason Vorhees
Leatherface
Freddy Kreuger
Hannibal Lector

In which Steven King movie do the characters battle a clown named Pennywise?

Carrie
Christine
It
Tommyknockers

How many times has the movie Texas Chainsaw Massacre been made?

Who was the psycho in the movie Halloween?

Freddy Kreuger
Pennywise
Jason Vorhees
Micheal Myers

In which movie were the characters at Camp Crystal Lake?

Nightmare on Elm Street
Friday the 13th
Halloween
I Know What You Did Last Summer

Who was Micheal Myers' first victim at age 6?

His mother
His teacher
His sister
The town sherriff

In the Movie "Christine", what kind of car was she?

Ford Fairlane
Dodge Dart
Plymouth Fury
Chevy Impala

In the movie "Child's Play", what was Chuckie?

A stuffed animal
A good guy's doll
A new hot wheel car
A monkey

In what movie did Jack Nicholson play Jack Torrance?

Texas Chainsaw Massacre
Psycho
Christine
The Shining

Who was the father of Rosemary's Baby?

Santa Claus
Satan
Guy Rosemary's husband
The mailman

In" Psycho", what was Norman Bates' mother's name?

In "The Exorcist", what was the little girl's name?

Regan
Susie
Sara
Katherine

In the movie "The Omen", who hangs themselves at Damien's fifth birthday party?

His mother
His brother
His nanny
His priest

In "Nightmare on Elm Street", what colors are Freddy Krueger's sweater?

Black and Gold
Red and Green
Red and Black
Purple and Gold

What kind of creature was "The Thing"?

Sea Monster
Mummy
Space Alien
A man made monster
Answers
Answer 1: Chocolate Sryup
Answer 2: The Babysitter and the Stranger Upstairs
Answer 3: Carrie uses her powers to knife her to death
Answer 4: Jason Vorhees
Answer 5: Silence of the Lambs
Answer 6: Seven
Answer 7: April Fool's Day
Answer 8: Boris Karloff
Answer 9: Bela Lugosi
Answer 10: Rocky Horror Picture Show
Answer 11: Freddy Kreuger
Answer 12: It
Answer 13: Twice - Once in 1974 and again in 2003
Answer14: Micheal Myers
Answer15: Friday the 13th
Answer 16: His sister
Answer 17: Plymouth Fury
Answer 18: Good Guy's Doll
Answer 19: The Shinning
Answer 20: Satan
Answer 21: Norma
Answer 22: Regan
Answer 23: His nanny
Answer 24: Red and Green
Answer 25: Space Alien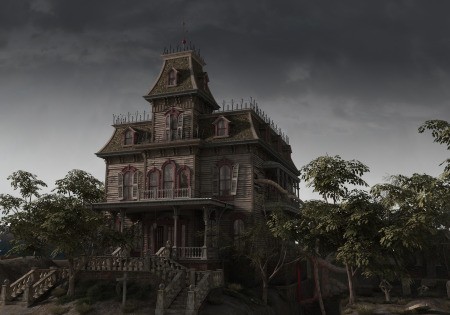 About The Author: Debra Frick is a mother of 5 and a grandmother to 8 grandsons and one granddaughter. She is a published author and poetress. Recycling and saving money are her passions. She also loves crocheting and cooking. She is also a pet rescue volunteer and has many pets of her own.
Add your voice! Click below to comment. ThriftyFun is powered by your wisdom!
November 16, 2017
0

found this helpful
Hi. Boris Karloff played Frankenstein's monster.

January 3, 2018
0

found this helpful
#25.space alien obviously, you get to see some melenium falcon looking space ship when mac & norris go to where the norwiegens dug the thing up.

October 14, 2018
0

found this helpful
Norwegians*

March 29, 2018
0

found this helpful
Isn't Max Schreck, technically, the first to play "Dracula" in the silent 1922 movie, Nosferatu?

April 9, 2018
1

found this helpful
Question Suggestion***
8. Who was the first to play Frankenstein in the movies, in 1931?
I believe maybe more accurate to say: Who was the First to play "Dr. Frankenstein".. OR .. to play Dr. Frankenstein's "Monster"...

September 18, 2020
0

found this helpful
sorry to complicate things but number 13 really doesn't make any sense because of the original movies. (Texas Chainsaw Massacre 1 and 2, Texas Chainsaw Massacre 3 Leatherface, Texas Chainsaw Massacre the Next Generation) Then you have the two other movies that come from the reboot series (Texas Chainsaw Massacre 2003 and Texas Chainsaw Massacre the Beginning) then there's another sequel to the original movie (Texas Chainsaw 3D) not to mention the prequel Leatherface that came out a couple years ago. I put 4 down but there 8 movies!

February 26, 2021
0

found this helpful
I was thinking the same thing!
Add your voice! Click below to comment. ThriftyFun is powered by your wisdom!
Published by ThriftyFun.
© 1997-2023 by Cumuli, Inc. All Rights Reserved.
https://www.myfrugalhalloween.com/Classic-Horror-Movie-Trivia-Game-1.html