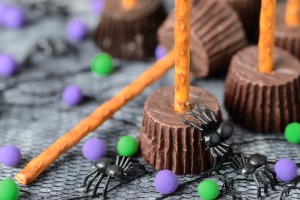 These sweet-salty bewitchin' cookies are easy to make and fun to eat! They will even work for an adult Halloween Party. Your guests will love these tasty snacks.
Ingredients:
1/2 cup packed brown sugar
1/2 cup butter or margarine, softened
2 Tbsp. water
1 tsp. vanilla extract
1 1/2 cups all-purpose flour
1/8 tsp. salt
10 pretzel rods, about 8 1/2 inches long, cut crosswise in half
2 tsp. shortening
2/3 cup semisweet chocolate chips
Butterscotch-flavored chips, melted
Directions:
Heat oven to 350 degrees F (180 C). Mix brown sugar, butter, water, and vanilla in medium bowl. Stir in flour and salt. Shape dough into twenty 1 1/4-inch balls.
Place pretzel rod halves on ungreased cookie sheet. Press ball of dough onto cut end of each pretzel rod. Press dough with fork to resemble "bristles" of broom.
Bake about 12 minutes or until set but not brown. Remove from cookie sheet. Cool completely on wire rack, about 30 minutes.
Cover cookie sheet with waxed paper. Place brooms on waxed paper. Heat shortening and chocolate chips over low heat, stirring occasionally, until melted and smooth; remove from heat. Spoon melted chocolate over brooms, leaving about 1 inch at top of pretzel handle and bottom halves of cookie bristles uncovered. Drizzle with melted butterscotch chips. Let stand until chocolate is set.
Nutritional Information: 1 Serving: Calories 150 (Calories from Fat 65 ); Total Fat 7 g (Saturated Fat 2 g); Cholesterol 0mg; Sodium 170 mg; Total Carbohydrate 21 g (Dietary Fiber 1 g); Protein 2 g % Daily Value: Vitamin A 4 %; Vitamin C 0%; Calcium 0%; Iron 4 % Exchanges: 1 Starch; 1/2 Fruit; 1 Fat
By Jodi from Aurora, CO
Read More

Comments