Enchanting Flower Fairies Costumes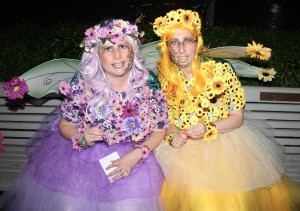 We decided to create flower fairy costumes. We decided to do two different flowers, a Purple Daisy Fairy and a Yellow Sunflower Fairy. We wanted to make beautiful enchanted costumes so we would look like we were part of the Enchanted Forest!

Total Time: A few weeks
Supplies:
artificial sunflowers in a variety of shades and sizes
artificial daisies in a variety of purple shades and sizes
sharp scissors
glue gun and glue sticks
green velvety shirts
thick wire
sheer ribbon in white and purple
large green wings
green glitter glue
long full tulle skirts in lavender and yellow
short tutu skirts in cream and purple
black 1/2 inch elastic
plastic silver star wands
lavender and golden yellow wigs
metallic makeup in gold, purple, white, and green
eyeliner
Steps:
Preparing Flowers: We had bought purple daisies and sunflowers in a variety of shades and sizes. Most of these came in a bouquet or with stems attached. Since we had to work with tons of these flowers, we started by cutting apart all of the flowers and trimming off all of the stems. We tried to trim off as much of the stem as possible, while leaving a little bit to hold the flower together. Some of the flowers still seemed to be falling apart a little bit, with the back piece that holds them together coming off, so we added a little glue gun glue under that part to reinforce them. Then we separated them into bags of each type to be ready to work with.
Making Flower Fairy Shirts: The most intensive part of these costumes was definitely making the shirts. We wanted to completely cover the shirts, so that the whole thing looked made of flowers. We had to attach all of the flowers with a glue gun. The backs of the flowers weren't completely flat, so we had to hold each one with some pressure for a little while, to get it to stick. We tried to arrange each shirt so that it had a nice design. We only had a few of the largest size of each type of flower, since they were more expensive. We decided to start by gluing the big ones on the shirt, spreading them out so that they weren't on top of each other. We then filled in the rest of the shirt with the different types of little flowers, trying to vary which shades we put near each other, to give it a more interesting look.
Making Flower Crowns: We made matching flower crowns for each costume. We started by making a circle base out of wire. We then glued on more of the artificial flowers all around the wire, first making one layer, and then building up on it, by gluing on more flowers with some above and others below those flowers. We attached sheer ribbon in a matching color to the back of the crowns and made a big bow, with long strings that would hang down on our hair.
Making Flower Wings: We purchased plain large green wings to use with these costumes. We then decorated them to match the flower theme. We glued a large matching flower to the four corners on the front and back of each pair of wings. We tried to have the flower on the front and back match each other, so it would look nice on both sides. We added a small flower in the center of each of the back of the wings as well. We also used green glitter glue to create swirls and lines on the wings.
Matching Skirts: To make the fairy costumes look extra pretty, we decided to wear not just one, but two tulle skirts. We started with long full skirts in matching colors, one yellow and one lavender. We then also got two mini tutu length skirts in coordinating but slightly different colors. For the sunflower costume, we added a cream skirt, and for the daisy costume, more of a dark purple. When we layered these two skirts, we thought it gave it a cool two tone look.
Making Flower Cuffs: We thought it would be fun to wear little matching cuffs on our hands. To make these, we got black elastic and cut it to a length that would fit around our wrists. We then glued it together at the ends. We made sure they were large enough to pull on and off our wrists, as we wouldn't be able to open them again. We then glued two big flowers on each one, on opposite sides of each other, and added little flowers to fill in the space in between.
Making Flower Wands: We bought cheap plastic silver star wands so we could then decorate them. We glued a large flower to either side of the center of each star on the wands. We then glued smaller flowers on both sides along the handle of the wands. We made sure to leave a little room at the end of each wand, to be able to grip it.
Finishing Touches: To complete the look, we added wigs in matching golden yellow and lavender colors. We also did our makeup to match. We did our eyebrows, eyeshadow, and lips in gold for the sunflower and lavender for the daisy with metallic makeup. We also drew a sunflower and a daisy on one cheek, outlining them with black eyeliner. We thought the costumes looked very enchanting!
Categories
Pages
More
Sub-Categories
Published by ThriftyFun.
© 1997-2020 by Cumuli, Inc. All Rights Reserved.
https://www.myfrugalhalloween.com/Enchanting-Flower-Fairies-Costumes.html