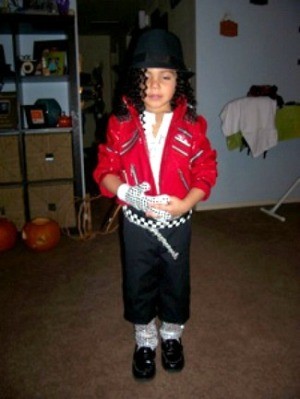 Wow, this was hard to do, I can't lie. This is Michael "Drackson" (as my son calls him). We used DVD videos to sketch the make of the jacket. We bought a 60's style costume and used the little black leather jacket pattern. We added the sequin embellishments and zippers (long zippers and fabric tac and added zipper pulls).
We made regular pants into cropped pants and added satin ribbon down the sides like tuxedo pants. We used sequin fabric to make tube sock covers. We bought white winter gloves (used only one) and traced the glove with more sequin fabric.
I bought a fedora at Walmart. For his hair, I went to a African American hair store and bought tracks of synthetic weave and glued the tracks onto a stocking cap.
Total cost was well over $80.00 because I had to buy him penny loafers! Added a studded belt and white tee shirt with 80's lettering that said "The King Of Pop"
By Drii from Stockton, CA
Comments
Read More

Comments