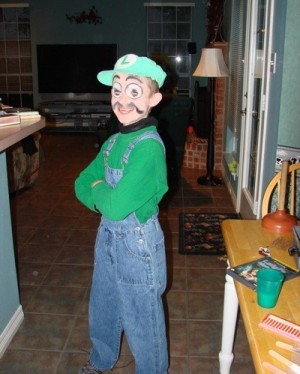 What gamer doesn't love the Mario Brothers? Turn your kid into one or the other of these lovable little plumbers for Halloween. (For the uninitiated, Mario wears red and Luigi wears green.) The costume is warm, comfortable, and can be made reflective with the addition of some reflective tape. My son wore this rig two years in a row (as long as the overalls fit).
Note: for any costume, always research the look you want to achieve first by studying pictures of the character. This gives you the best idea of what to look for in colors and props, how to decorate the hat, etc. The overalls, mustache, and hat are the key items to get right, everything else is really optional.
Approximate Time: 30 minutes
Supplies:
one pair overalls
one craft store hat
some craft sheet foam in white and red or green
some craft paint in red or green
a bright red or bright green t-shirt, long sleeved or short
white gloves
a (clean) plunger (plumber's friend)
black shoes
makeup or fake mustache
Find your key items: Overalls were purchased at a thrift store. The white hats sold for decorating in craft stores are perfect, but a red or green "gimme cap" would serve as well. The T shirt can also be located at a thrift or craft store. The mustache is common where Halloween items are sold, or make your own with eyeliner or mascara and a small brush. Most of us have the rest of the items around the house, or check with a friend before buying anything.
Instructions:
Your craft hat, if white, should be painted either red or green. This also stiffens the material.
With the hat dried, cut out a 3 inch white circle of the craft foam, and the letter "M" in red or the letter "L" in green (or the letter could be cut out of black). Assemble the letter and circle together on the front of the hat either with foam that already has a stick-on back or using glue.
Add some reflective tape to the front and back of the overalls for safety, or have your child carry a lantern or flashlight.
Attach fake mustache or apply a black handlebar mustache and eyebrows with makeup.
Dress your child in the shirt, overalls, gloves, shoes, hat, have them carry plunger and enjoy the instant recognition and smiles from every house where you trick or treat.
By nhe from Denton, TX