It's fun, easy and a real treat to send spooky greetings to all your family and friends at Halloween. What's more, everyone is bound to appreciate receiving a hand-made card to open just as the lights are dimmed on All Hallows' Eve!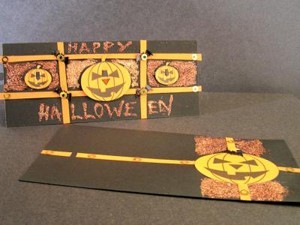 Approximate Time: 30 minutes plus drying time
Supplies:
a rectangular piece of coloured card
thin strips of card in a contrast colour
a coloured envelope – to accommodate a folded card
pencil and ruler
pair of scissors
craft knife
non-toxic PVA glue
small brush
glitter
spooky embellishments – pumpkins, ghosts, bats…
foam pads
Instructions:
Choose a theme for your greetings card it could be pumpkins, ghosts, witches, bugs or anything else your imagination can conjure up.
Mark the centre of a piece of card with a light pencil line.
With a craft knife gently score along this line and crease with a ruler to make a crisp fold.
Decide whether you want your design to be portrait or landscape.
Glue thin strips of card in a contrast colour to the front of your card to make a grid and then add some spooky embellishments within the grid, using foam pads to give a three-dimensional look.
To follow, paste on glue and then sprinkle glitter over your card to create solid areas of colour and some sparkly words.
Tip card slightly to remove any remaining glitter and let dry.
As an extra special treat, write a spooky verse inside your card or get the children to draw scary faces, instead.
Decorate an envelope to match the theme of your card.
Your greetings card is now ready to send. You can place it in a stronger envelope for protection on long postal journeys, if desired. Crafty Tip: make your own spooky embellishments by potato printing shapes onto thin card and cutting each one out.
By Anne from United Kingdom