September 18, 2008
0

found this helpful
When I was a kid in school we made paper mache maps.with the mountians and all. We cut up newspaper really small. Then we added liquid starch. You could maybe form this around a balloon then b=give it the ridges that pumpkins have. some recipes call for white glue. www.buzzle.com/.../how-to-make-paper-mache.html

metroplex
Bronze Request Medal for All Time! 65 Requests
September 18, 2008
0

found this helpful
When I was in elementary school about 100 years ago, we made Easter baskets like this.
Blow up a balloon and tie a knot in the end.
Take any pretty color string and saturate it with Elmers glue.
Wind the string completely around the balloon many times, depending on how full a basket you want. I remember that I used a lot of string on mine and I liked it very much when finished.
Let the string on the balloon dry.
Pop the balloon.
Cut out the shape of the basket with a regular scissor.
Maybe you could make a pumpkin this way, too.
I think your question is great and if you get an answer, I hope you will post it.
The thing about the balloon and string thing is getting the right shape. Do they sell round shaped balloons?
Good luck from Smoochie

September 18, 2008
0

found this helpful
I second the balloon idea. once the initial papier mache form is dry, pop the balloon, glue the bendy bits of drinking straws on vertically at intervals and papier mache over them and then start putting more strips on to give it a more pumpkin-y shape.

September 18, 2008
0

found this helpful
This guy is a wonderful and he gives you all the instructions And yes this is papier-mâché
www.stolloween.com for complete tutorials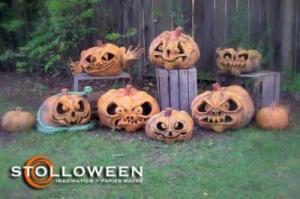 PENNY K
Bronze Feedback Medal for All Time! 107 Feedbacks
September 19, 2008
0

found this helpful
Use the balloon and string idea from above but modify it.
Blow up a balloon. Tie string around it, top to bottom at regular intervals making string a little snug so it will form ridges like on a pumpkin. Using thin tissue paper and watered down glue or flour paste (probably wouldn't keep well and might bring bugs, so elmer's type would be good, though there are recipes for making that on web too), form a paper shell over ridged balloon.
Let dry as above,paint orange, pop balloon, put in some kind of handle.

Louise B.
Silver Feedback Medal for All Time! 337 Feedbacks
September 19, 2008
0

found this helpful
I have never had a problem with flour paste, but watered down white glue is a lot simpler and easier.
Newspaper torn in strips works just fine, but then you have to paint it. Tissue paper can be the color you want -- no painting necessary-- but will stain your hands. Of course, the tissue paper is more expensive as well.
By (Guest Post)
September 24, 2008
0

found this helpful
Blow up a large round balloon. Cover it with piece of wet paper, When the paper drys, paint it orange. You now have a orange pumpkin.