EllenB
Gold Post Medal for All Time! 858 Posts
Halloween has become a huge holiday. According to a survey conducted by the National Retail Federation, consumers spent $3.29 billion dollars on Halloween in 2005. Of that $3.29 billion, $840 million was spent on decorations-second only to Christmas in holiday home decor. Talk about frightening! Even with all newfangled lighting effects, fog machines and animatronics designed to create hair-raising effects, a carved pumpkin is still the best and least expensive way to create a haunting Halloween scene.
Here are some tips for selecting and carving the perfect Jack-O-Lantern.
Selecting the Perfect Pumpkins
Before you select your pumpkins, decide on your carving design and your Halloween decorating goals. Do you need several pumpkins of a uniform size to line your walkway or a trio of pumpkins to create a display on your porch? Make a list of your needs before you go shopping so you can select pumpkins in the sizes and shapes that best fit with your decorating plan.
Shop early for the best selection. Store small pumpkins in the refrigerator and larger pumpkins in a cool, dry locations (e.g. basement or garage) until you're ready to carve them.
Look for fresh, firm pumpkins that are free from bruises or soft spots. They should be uniform in color and have at least one "good" side for display.
Select pumpkins that have a 2 to 3 inch stem. Pumpkins with small stems (or no stems) are more prone to decay.
If your pumpkin has the perfect shape except for a wobbly bottom, don't worry. When carving you can cut off the bottom to even it out and place the pumpkin over the light, rather than setting the light into it from above.
The texture of your pumpkin can play into your overall design. Pumpkins with a smooth surface are easier to draw on, while bumpy, wart-covered pumpkins lend to a more ominous feel.
To make cleaning less difficult, pick a pumpkin that is big enough to stick your fist into so you can remove the seeds and pulp easily.
Carving Tips and Tricks
Young children should be supervised at all times when carving pumpkins. Please keep them away from sharp tools. Most young children are more than happy to help design and clean the pumpkins and leave the carving portion of the project to the adults.
Most of the tools you'll need for carving are probably already in your kitchen or garage: spoons and scoops (for cleaning out the seeds and pulp), and assorted long-bladed knives and saws (for carving out various elements of your design). You will also need patterns (print them out or draw your own), tape (to tape patterns to pumpkins), grease pencils (to draw freehand patterns directly onto pumpkins) or nails/poker tools (to transfer stencils onto pumpkin) and newspaper to cover your work surface.
An alternative to carving is to paint your pumpkins using an assortment of post paints. Use freehand designs or "carve" out a stencil using black and yellow paint. You children may also enjoy covering their pumpkins with Halloween-themed stickers.
Jack-O-Lantern Lighting
Votive-sized candles are suitable for medium to large pumpkins. Tea lights can be used for smaller pumpkins. For a brighter light and longer burning time, keep candles in glass candle holders.
Never leave pumpkins containing burning candles unattended.
Never use candles to light artificial pumpkins.
Hardware stores and craft stores now carry many safe and convenient alternatives to candles. These include battery operated lights and strobe lights, "artificial candles," lights that change colors and high intensity glow sticks.
Keeping Pumpkins Fresh
After pumpkins are carved, coat them (inside and out) with a thin layer of petroleum jelly. This helps seal in moisture and help prevent the pumpkin from drying out so fast.
As an alternative to petroleum jelly, cover the pumpkin with plastic wrap or place it in a plastic bag and store it in the refrigerator or a cool room until you're ready to display it.
A shriveling pumpkin can be temporarily revived by soaking it in a bucket of cold water for a few hours.
The heat from lights and candles can dry out the inside of a pumpkin quickly. Make sure the design of your pumpkin allows for plenty of air flow to allow the excess heat to escape.
Pumpkin As Planters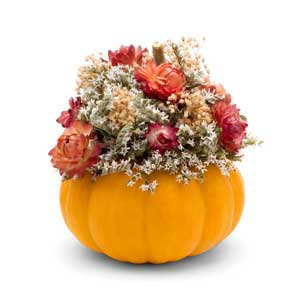 You don't have to carve a ghoulish face on your pumpkin in order to use it as a Halloween decoration. A hollowed-out pumpkin will easily hold a potted plant or a bouquet of fall flowers. Fill them with mums or orange, yellow and black pansies and use them on the front steps or as a centerpiece during your holiday parties.
Preparing and Freezing Pumpkin Meat
To prepare pumpkin meat for use in fall recipes, cut the pumpkin in half and remove the seeds and pulp. Cut the meat into large chunks and place them cut side down on a microwave-safe plate. Microwave on high for 15 minutes and check for doneness. Continue to cook on high at 1 to 2 minute intervals until the meat is tender. When cool enough to handle, remove the peel. Mash the remaining meat into a puree using a food processor, potato masher or food mill. Spoon one cup portions of the puree into rigid containers (leave 1/2 inch of headspace) and freeze at 0º F for up to 1 year.
Roasting Seeds
2 cups pumpkin seeds (approximate)
2 Tbsp. oil or melted butter
1 tsp. salt (optional)
Preparation: Wash the seeds well and stir with oil in bowl. Spread out in a single layer on a cookie sheet. Sprinkle salt, garlic salt or Italian herbs on top if desired. Bake at 250 degrees F. until slightly brown, turning them over every half hour. When they're done, they'll be crunchy. Variations include soaking the seeds in butter, soy sauce or Worcestershire sauce for 1 hour prior to roasting.
Free Pumpkin Carving Stencils
A quick search on the web will turn up lots of links for free carving stencils. Here are a few to get you started: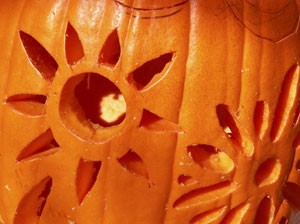 About The Author: Ellen Brown is our Green Living and Gardening Expert. Click here to ask Ellen a question! Ellen Brown is an environmental writer and photographer and the owner of Sustainable Media, an environmental media company that specializes in helping businesses and organizations promote eco-friendly products and services. Contact her on the web at http://www.sustainable-media.com
Add your voice! Click below to comment. ThriftyFun is powered by your wisdom!

Lizzyanny
Bronze Feedback Medal for All Time! 226 Feedbacks
October 9, 2014
0

found this helpful
My favorite pumpkin carving tool is a wallboard saw. We have used the same one for years. Makes carving the big ones quick and easy and seems safer than a knife. It is certainly much faster. They cost a couple dollars.
Add your voice! Click below to comment. ThriftyFun is powered by your wisdom!