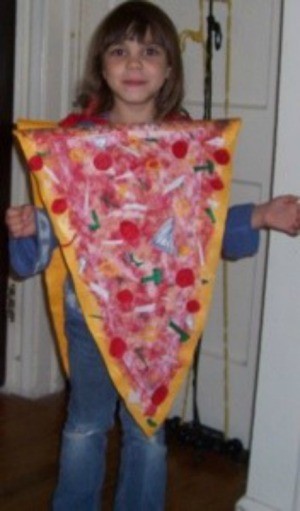 Supplies:
dark-yellow felt
red felt
white felt
green felt
white and yellow Paint
paint roller
hot glue
ribbon
paper towel roll
Instructions:
Using dark-yellow felt, measure length and width of child, you want the slice to come out a little bit beyond the shoulders and below the crotch. Cut 2 triangles.
Using Red felt, cut 2 triangles about 1 inch smaller on all sides to layer on top of the yellow triangles for the sauce.
Cut out shapes for toppings, like mushrooms, onions, pepperoni, peppers and so on from different colors of felt.
Before applying any toppings, use white paint with a swirl of yellow in it to lightly roll on some cheese, making sure you go all the way out to the sides. The slice can be enhanced with brown paint for the crust or more red for sauce or white for lots of cheese in whatever manner you prefer.
Then you can hot glue some toppings on.
To make the top of the slice puffy, use a paper towel or wrapping paper roll cut length-wise. Glue the outside of the roll to the top of the slice, this will make it puffy and hold it out so the slice is not floppy.
Glue straps to the top so the 2 slices can be tied at the shoulders. You can cover the paper towel roll and strap ends with a strip of yellow felt if you prefer.
By Melissa M. from Michigan