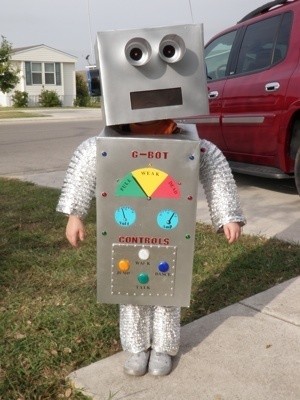 The body and head are made from cardboard boxes then wrapped with art paper to make the silver chrome paint more metallic. Head has a construction helmet (we duct taped the helmet in), making the inside fitted to head.
Eyes are plastic cups painted silver with lights inserted, mouth cut out covered with a black stocking, ears are cardboard cut outs with a blue reflector with coat hangers and a green foam ball tip.
On the Body: Meter on the front made from scrapbook paper cut to triangles (to form half circle) Gauges are just circles. We used clock hands as the working parts of the Gauges and meter. These are attached with brads painted silver.
Lights on the body are LED and chain connected with a push button at left shoulder. (You could also just small reflectors.) Meter lights are chain wired and connected to the emergency switch on the back. The battery pack is 6, 9 volt batteries with 20 feet of wire.
The control panel is made with a piece of cardboard and art paper. Spray painted silver and attached to robot with silver painted brads (to mimic rivets) the buttons are reflectors. The words on the robot are all scrapbooking letter stickers.
The arms and legs are silver dryer vent hoses. The arms are connected with silver duct tape on the inside arm holes. Legs are sewn to old shorts with fishing line. Shoes were canvas slip on shoes. We found ours at family dollar and they light up. We spray painted them silver also. If you find white you could just dye them. We looked for silver mittens but could not locate them in TX, that would a great added feature.
By John
Read More

Comments

I need an easy idea to make a robot costume for a 3 year old boy who is 3' 9" and weighs 40 lbs.
Thanks for your help!
By shortytlk from WV

Answers

January 26, 2011
0

found this helpful
My favorite Halloween costume growing up was a robot costume my parents made when I was about 7 years old. Obviously a little bigger than your son, but I think the basics could still work! They took a box and cut out a hole for my head and arms (could find at any craft store if you ask for an empty box). We covered it in tin foil to make it silver/shiny. Attached to the arms was dryer piping, the flexible/crinkly kind (prob could get pretty cheap at a Lowes or HD).
For the head we just painted my face silver, and I had a headband that resembled the type of robot ears I had pictured for my costume. One of the more basic costumes we had ever put together, but the end result was great, and to this day I still have the fondest memories of that particular one over others!

January 27, 2011
0

found this helpful
Thanks so much! We are snowed in today, and I have most of the things you mentioned, so this will be a great project for us. Have a great day?
Answer

this Question

xintexas
Silver Feedback Medal for All Time! 278 Feedbacks
My grandson is turning three this month. Halloween is coming up and my daughter and he went to pick out a costume. He insists he wants to be a Droid and nothing will change his mind. He is very smart and knows this is what he wants to be. Does anyone have an idea how to make a Droid (robot on the phone commercial) costume? Please keep it easy to make. Any help is appreciated.
By xintexas from San Antonio, TX
Answers

September 22, 2010
0

found this helpful
www.instructables.com/.../
www.instructables.com/.../
www.instructables.com/.../
Here's a few that look great. Make sure to post a picture. Good Luck!
Answer

this Question