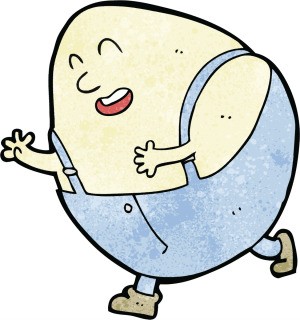 Child becomes the grandfather clock in the nursery rhyme, Hickory, Dickory, Dock.
Approximate Time: 2 - 3 hours
Supplies:
3 paper bags, 2 with bottoms cut out
brown paint
Instructions:
I did this for my son when he was in elementary school.
I took the bottoms off two paper grocery bags. I then painted the outside of the bags a mahogany brown. I did the same thing with a third bag, but I left bottom in the bag and painted the bottom as well.
I then cut out an ornamental top for the top of the clock from a small piece of poster board. I made it look like scroll work. I painted that all mahogany as well and then "filigreed" it with gold paint.
With the third bag placed on my son's head, I cut our a circle that his face came though. Around that hole I painted the numbers 1 through 12 in the appropriate places for a clock.
I then taped the second bag to the bottom of the third bag from the inside. You could staple it if you wanted to paint over the staples. If the other bag is required, depending on how tall your child is, tape that on the bottom of the second bag.
I painted on gold chains down the center of the bags with painted pine cone weights on the chains for clock "winding". Then I pasted a felt mouse on the chain, headed down. (You could paint the mouse as well.) I then made hands from poster board for the clock face. I stuck them on my son's nose with two sided tape, but the newer tacky putty would work very well, and I set the hands at one o'clock. The mouse is facing down, because "The clock struck one and down her run", so the mouse is headed down.
It only took me a few hours to make, it dried quickly, and I cut arm holes in for my son to be able to get his treats. He wore a dark sweater so he almost matched the clock.
To make it look more "woody", rub down with some rolled up paper while the paint is still wet. This costume comes right off for riding or walking and slips right back over the child's head for approaching the houses. It won first prize and cost a couple of dollars for paint and poster board.
By diane szlucha from Owego, NY