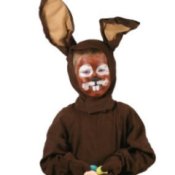 When my daughter was six years old, she was the Easter bunny. She wore a pink sweat shirt and sweat pants that were turned inside. This makes it look furry. I bought an inexpensive bunny ear hair band along with with a puffy white tail to put on her sweat clothes. I decorated her face, drawing on the basic whiskers and nose with a bit of pink cheeks.
She wore more clothes underneath her sweats so she was warm and comfortable. To top it off, she carried an Easter basket with decorated hard-boiled eggs and handed them out to each house she visited.
We only visited homes in our neighborhood to people we knew. Instead of using hard-boiled eggs, you can use the plastic ones. It was simple and she was warm and comfortable. Everyone was surprised and happy to receive the eggs. My daughter was more excited about giving out the eggs than getting the candy.
It was such an easy costume to put together, my daughter learned how it feels to give to others, and the neighbors were very happy to receive something for Halloween.
By it's.only.me from NE PA / USA