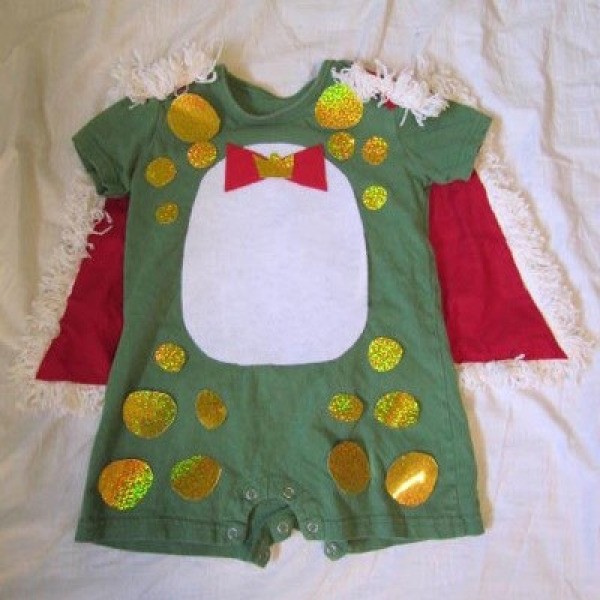 Materials
1 green onesie or jumper
gold shimmery paper (I used gold border paper for $3 at Staples)
double-sided tape
hot glue gun (with glue sticks)
about 1 yard of red velvet fabric (or plush fabric)
white fringe
2 8.5x11-inch pieces of adhesive-backed felt in white AND green (buy a pack of assorted colors for about $5)
scraps of white, red AND black adhesive-blacked felt (for bow tie and frog eyes)
scissors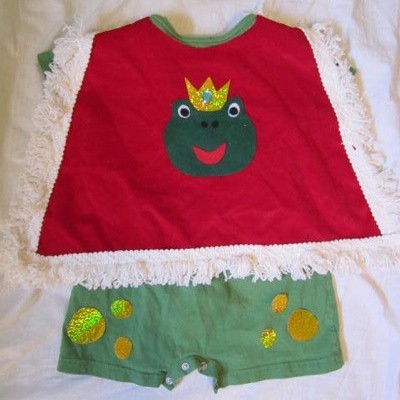 Instructions
Cut a large white circle from the felt and stick on the front of the onesie/jumper as the belly of the frog.
Cut gold circles from the gold [border] paper and use double-sided sticky tape OR hot glue to scatter on the green part of the frog's body. I made a fairly symmetrical placement intentionally.
Cut a red bow tie shape OR two equally-sized red triangles for the bow tie out of the red adhesive-backed felt. Stick to collar area on front of onesie.
Cut a small crown from the gold paper and use the double-sided tape to stick it in the center of the red bow tie.
Turn the onesie over so you see the back. Stick about six gold circles that are cut from the gold paper and with double-sided tape on the bottom of the back of the onesie, near the leg-backs and/or tushy area.
Lay the red velvet or plush fabric right-side-up, on top of the back of the onesie. Cut as desired for the cape. See picture for optional shaping.
Hot glue the top of the red cape to the back shoulder area of the onesie, along or a little below the back neckline.
Hot glue white fringe around the cape edges.
To make the frog face for the cape: (a) Cut a frog face shape from the green adhesive-backed felt and stick on the upper middle of the cape. (b) Cut out small white circles for the two eyes then cut out two smaller black circles for the eye color and stick on to frog. (c) Cut a red felt mouth for the frog. (d) Cut two small black circles for the frog's nostrils. (e) Cut a gold paper crown and hot glue between the frog's eyes atop its head
NOTE: I pulled UP the eyes to stick the crown right behind the frog's eyes.
OPTIONAL BUT CUTE! Cut three or more lip-shaped pieces to resemble kiss marks to stick on the Frog Prince's face, arms, cape-frog-picture, arms, etc.! AWW!
Put a gold boy crown on the Frog Prince if he lets you! And give him a gold plastic or pipe-cleaner scepter to carry, too, if he wants to!
ALL DONE! Dress your little Frog Prince to get some treats and kisses, and take pictures!
By Erin R.