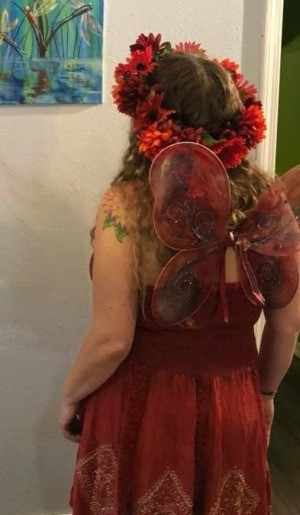 Recently, I had the opportunity to attend Fairieworlds, which takes place not too far from my home. It is an all-ages art and music festival where everyone is encouraged to dress up, like a combination Renaissance Faire and ComiCon. Nearly everyone was dressed up, sometimes very elaborately and the idea of "fairie" was loosely interpreted. You might see a pirate or a little boy in a dinosaur costume or a cavewoman. Such fun people watching!
I put together this outfit from a dress I already had and maybe $10 of dollar store craft items. I felt very cute and comfortable the entire afternoon.
Time to Complete
30-45 minutes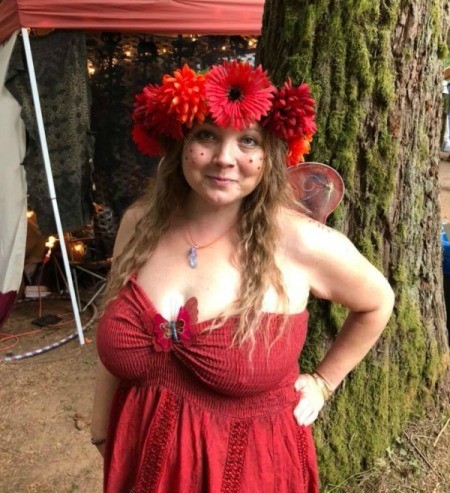 Supplies:
Flower Crown
2-3 bunches flowers
floral or gardening wire
ribbons for decoration
decorative butterfly ornament
Wings
Dollar Store wings (green)
red permanent marker
isopropyl alcohol
The red sparkle freckles were applied by a friend but I have seen those plastic gems available in many places. Use eyelash glue to make sure they adhere well. None of mine fell off and some of the face gems were still on from the day before.
Steps:
Flower Crown
I bought 3 different artificial flowers at the Dollar Tree, in red and orange colors that went well with my dress. I also bought a package of butterfly ornaments in a similar color. I already had the floral wire, which was a copper color and relatively thick. I don't have the exact weight. If I were more skilled at attaching the artificial flowers, I think I could have made a crown without the underlying wire, but it was helpful as a guide for me.
First, I measured the floral wire to fit my head. Make it a bit larger than you think. I had to start over and make my crown a second time as it was too small once the flowers were added.

I spaced the flowers out relatively symmetrically around the crown. I just wrapped the green wire stems around the floral wire and then snipped off the long ends.

Once I had it all put together and knew it fit, I wrapped the wire with a matching red ribbon.

I had intended to have the ribbon be long and drape down the back, but the length I had was just enough to cover the stems. Instead, I added additional ribbons for that effect and curled them. I attached one of the butterflies to the hanging ribbons and another one to the front of my dress.
Wings
I had intended to make my own wings like I did when I was a kid, using wire hangers and pantyhose. However, pantyhose is relatively difficult to purchase cheaply anymore, being unfashionable. At least, I didn't find it at my local dollar store or grocery store. And the wire hangers of my youth are not available anymore either, as the dry cleaners use the ones with a tube more often. So I altered a pair of wings that I purchased at the Dollar Tree. They were a bright lime green before I started in on them. I thought that would be more organic looking than a pink or purple color as a base.
I took a red permanent marker that I had recently purchased at the dollar store and colored in the green wings. There were noticeable pen strokes no matter how thoroughly I colored it in.

We decided to spray it with rubbing alcohol. This spread out the red color and made it look more organic. Be careful though because it is easy to spread the red color off the wings when it is wet. I may have to repaint a wall in my bathroom. :)

I then tied the wings directly onto the back of my dress. This was necessary because the elastic broke the very first time I tried to put them on. But it also made the wings very unobtrusive and seamless with the outfit, since the colors I used matched my dress. I was worried about damaging the wings so I put the dress on once we got there, but I was able to sit in the car no problem on the way home.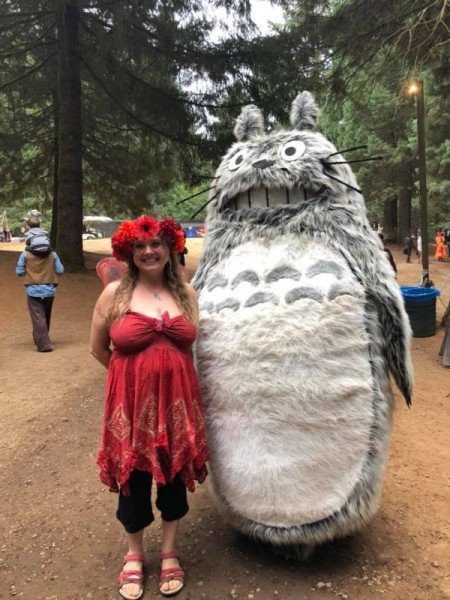 Add your voice! Click below to comment. ThriftyFun is powered by your wisdom!

attosa
Diamond Post Medal for All Time! 1,246 Posts
September 22, 2018
0

found this helpful
Excellent excellent excellent, Jess! This makes me so happy, and you look so very cute. Brilliant work. Aaaand I'm super jealous you got a photo with Totoro! ;)

September 26, 2018
0

found this helpful
I was relatively blasé about everyone's fancy costumes until I saw Totoro. I felt like I was about 5 years old and ran right over to get a picture. :)
Add your voice! Click below to comment. ThriftyFun is powered by your wisdom!