These are some nerdy Nerds. They asked to be nerds, I asked what kind, and turns out they wanted to be the candy kind, but also be nerdy about it. They are accompanied by Mr. Wonka and a rat terrier Ompa Loompa.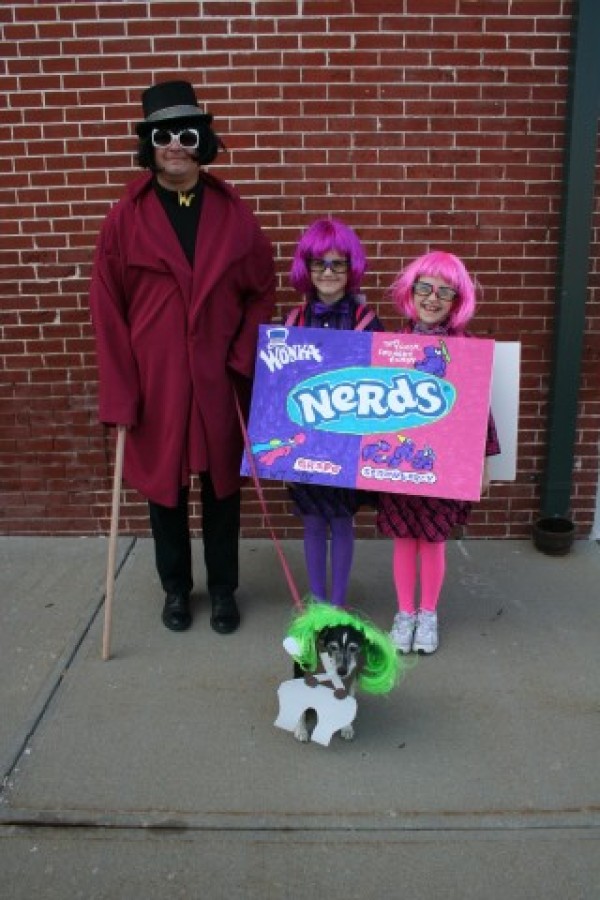 The cost really just depends on how many items you already have, foam board and foam sheets are very cheap. Most of out items we had.
Approximate Time: weekend project
Supplies:
2 sheets of foam core posterboard
paint
duct tape
ribbon
glasses
bowties
suspenders
nerdy clothes
wine colored jacket
black pants, shirt, shoes, gloves
large dowel
foam sheets in brown and white
Instructions:
The Nerds "box" is a foam core board that I painted to be similar to a Nerds box. There is also a backside with a UPC on it. We used ribbon and duct tape to attach it. You can project a photo of the actual box onto the board to draw it out. I did free hand some of that, projected some. This took the longest. They are wearing plaid dresses with suspenders, bowties, glittery tights, wigs, and of course nerdy glasses with coordinating duct tape.
Mr. Wonka has a top hat, jacket made loosely from an old fashioned duster pattern, black pants and shirt with a W made of gold glitter for the neck, I just freehand cut that out. He carries a large dowel for a cane. And that isn't his real hair, by the way. And of course, big glasses, mostly so no one will recognize him.
Our dog costume is made of foam sheets, we just cut those up and glued them together. I just freehand drew the shape out. The green wig is from a past costume or maybe St Pat's Day.
That's really it! Very bright and fun. Of course you have to pass out Nerds!
By meandthejs from USA