September 18, 2008
0

found this helpful
Best Answer
I dress up as a witch every year. It's very simple, just a long black dress. There's always Wizard, monk which are long gowns, capes and there is the Grim Reaper.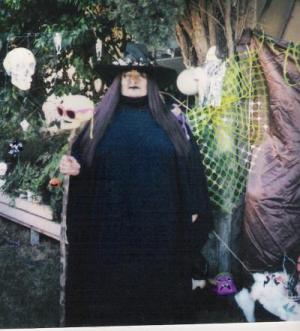 September 18, 2008
0

found this helpful
Best Answer
A bit ago the M&Ms and California Raisin costumes were out in the stores, so it's about time for them to be in the thrift stores.

lavonneann
Bronze Feedback Medal for All Time! 112 Feedbacks
September 18, 2008
0

found this helpful
Best Answer
A fallen angel? When my daughter was going to a party I made her an angel costume out of an old white sheet. Dirtied it up a bit with eyebrow pencil, pinned on a few patches.
Made wings with foil and a off side halo with bronze colored tinsel on a wire hanger. She won the prize.

September 18, 2008
0

found this helpful
Best Answer
How about wrapping yourself in aluminum foil and going as baked potatoes? Talk about a thrifty costume! Last year I bought a large brown sheet set (ultra cheap at walmart I think) and made easy costumes for my hubby and myself. I just cut and hemmed the sheet so it covered most of our body from shoulders to rump (cut leg holes and gather at the neck) then hung a soup ladle(or dipper) around my hubby's neck. You guessed it-he was a "dip***t". I wore the brown sheet with my angel wings and halo from last year and was "holy ***t". Everyone thought it was very creative and funny.

September 21, 2008
0

found this helpful
Best Answer
There's a guy who goes to the local Renaissance Faire here who's of broad girth, who dresses up as Friar Tuck. He very much looks the part, something like that could work for your husband. Renaissance type costumes work well with any body type.
Or maybe "cuddly" things, like a teddy bear or a bunny or something with lots of fur...good for chilly nights too! Or maybe you could go as famous people who share the same body type. my mom and dad went as Boy George and Cindi Lauper one year. Characters from movies or books who are the same girth are good, too, like Hagrid from Harry Potter for an example.
Inanimate objects are fantastic, too. It depends on what your body shape is, how much you want to draw attention to it...etc. Also, generic things are great because who said that a vampire has to be skinny? or a zombie? You could go as dead bodies or something equally charming. :grins:
Someone mentioned an MnM costume...I imagine that would be easy to make with clothes all in the same color, and a white "m" on the front. Or the MnM people.
Good luck, and I hope you have fun!

Grandma J
Silver Feedback Medal for All Time! 270 Feedbacks
October 4, 2008
0

found this helpful
Best Answer
I have a pattern that can be used for youth or adult. A couple items on it were a hamburger--all pieces sewn as one, the top, bottom, meat and condiments. I made a pickle tie on hat. Also used the same pattern to make the giant marshmellow from Ghostbusters, make a baseball with the lines, autographed with many famous players.Also used for a pumpkin. Have also taken tag board--2 pieces, made a DQ or any name Shake. Cover was a pizza cardboard round, sprayed and covered with colored cottonballs. Straw??? Wrapping paper tube, I sprayed white then wrapped fabric strip on and sprayed other red. Could use take, etc and leave without painting.
For the kids wearing these, I blew up water tubes, they crawled into them, costume over, snugged the bottom with drawstring and they were Round. Large adult could use the same or if it fits--who cares!
I am used to making costumes without patterns, etc. Our community celebrates BENSON KID DAYS, created back in the depression for some low cost fun in the small town. We are at 78 years running, 2 day weekend of fun things for families and children of all ages.
My last 2 years the youngest son was Mrs Doubtfire. 4th grader, he went to the actors of community theater, found out how to do his make up, found clothes at the thrift shop to make him an old lady, borrowed grandma's special shoes, put on a dusted wig and no one knew who the old lady was, esp not that it was my son. The bra and slip were the toppers of the outfit.
Also did a banana split, made the banana shape out of cardboard, covered it with yellow fabric, took a real banana to see and shaded in with paint where it was needed. Made 1 round casing of cheap clearance lining material, made 2 cases other flavors of ice cream, blue up beach balls to make them scoops of ice cream, made a round ball for the cherry on his head (hat) and he climbed in the middle scoop of ice cream walked down the street, holding first price. Little make up on the cheeks help--cherry red rouge. Could only embarrass him to 5th grade.
Sets of 3 for my 3 sons have included Alvin, Simon, Theodore; Rice Krispie Snap, Crackle and Pop; Ghostbusters; Jolly Green Giant, Little Sprout and kernel of Corn (could be all work by small adults too); French fries, hamburger and shake; Mary Poppins characters; jsut to name a few.

October 12, 2008
0

found this helpful
Best Answer
I think you should be a pair of dice. Two big cardboard boxes, cut out holes for your head and arms. Paint white with black dots. That would be so cute. Try not to sit down a lot.
vguy
By carol (Guest Post)
October 19, 2008
0

found this helpful
Best Answer
I was a "dead giveaway" at my office once: Use makeup to best impersonate a cadaver, duplicate and enlarge"two for one," "free", etc. clippings from ads, and glue them to the clothing or glue to campaign buttons or the like. Then you want to wear a label made of that stiff paper used for file folders, with one hole in the end-adding a brick-red paper reinforcement to hold a string. Write on it "dead giveaway" and tie it to your big toe. (This label can be bought at office supply stores.) Wearing sandals or flip flops is best.
For my daughter's black cat tail we went to a bike repair shop and were given a bike innertube. It was lively, curvy and springy. I think I recall it stayed on with a belt worn under her clothes.
My portly husband will be a flasher this year. Good use for his trench coat (and "whatever" kind of shorts) concealed beneath. Bare feet or just socks....so easy!
Isn't Halloween so much more fun when we invent our own costumes? Being clever almost always draws amusement, and you'll never run into your own character at the same event.

September 18, 2008
0

found this helpful
Google the local city ordinences, print them out, cut them up and pin them to his suit.
He then becomes a "LAW SUIT" !!!

Louise B.
Silver Feedback Medal for All Time! 337 Feedbacks
September 19, 2008
0

found this helpful
How about making pumpkin/jack o'lantern costumes out of orange garbage bags? I have seen this done; you might be able to google this and get directions. I saw it in a book at one time.

September 26, 2010
0

found this helpful
I went a few years ago and bought a black graduation gown at a thrift store. I also bought a wooden hammer at the dollar store (actually a meat tenderizer hammer from the thrift store might work also) and went as 'Judge Judy'... My husband went in a white sweat suit (top and bottom) from Walmart that I made stripes on it using wide black electrical tape (dollar store) and he was the inmate. You could also paint on the stripes.
Another year my husband and I dressed in the worst plaid Bermuda shirts we could find with the ugliest Hawaiian type shirts, straw hats and old cameras around our necks and went as tourists. We wore socks with sandals also. All came from the thrift store.