By Michele (Guest Post)
October 2, 2007
0

found this helpful
Best Answer
Hi! What if you have the kids paint some little terra cotta pots like candy corn? Paint the bottom white the middle orange and the tops yellow. They can they paint/draw a face on the front and fill the inside with candy corn! I usually put some yellow plastic wrap on the inside before putting the candy in, but you can skip this step or the candy step all together. They are really cute and inexpensive. The little pots are about 35¢ each.
Good luck!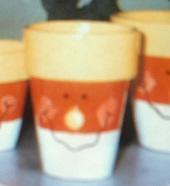 By (Guest Post)
October 5, 2007
0

found this helpful
Best Answer
One game we've used is Guess the Ghost - divide the class into 3 large groups and take one group outside the classroom. Throw a LONG white (or darker color is fine)flat sheet over a kid's head and put a pair of sunglasses on the outside for "eyes". Bring your "ghost" back into the classroom and let the other 2 groups of kids left ask a set amount of Yes or No questions. Ghost can only shake their head or nod to answer. See if the kids can guess who the ghost is - just be sure to cover your hidden guest's shoes with the bottom of the sheet!
Also, a game I did for my son's 4th grade Christmas party last year that can be easily modified for Halloween is the Tray Memory game. All it is is a variation on the baby shower game. Get a tray and load it with small items (spider rings, skeleton, leaves, pumpkin, gourds, etc etc) and add a few unusual items like I also added a few odds and ends like change, pencil, plastic cup, plastic sheriff's badge left over from a summer camp, ordinary drinking straw, etc. Let the kids look at the tray for one or two minutes (time them on a watch) then cover or remove tray. They have to write down as many things as they can remember. To prevent a tie (or too many ties) I also had them flip the paper over and answer some mystery questions. Like "Was the penny heads or tails on the tray?" and "Was the pencil sharpened?", or "What cartoon character was on the cup?" Makes them nuts because a lot of them only paid attention to what the object WAS, not specifics.
And if all else fails? Halloween Bingo with smarties candy as markers.
Good Luck!

Louise B.
Silver Feedback Medal for All Time! 337 Feedbacks
October 5, 2007
0

found this helpful
Best Answer
A game I used to play was a variation on musical chairs. You walk around the group of chairs, and everyone sits down when the music stops. However, instead of one person being eliminated each time, they have to sit on the lap of someone. You remove a chair or two each time, and the game gets more hilarious each time until you end with 10 kids sitting on each other's laps on each of the 2 chairs that are left -- or however far you let it go. Usually by then they have all collapsed into giggle fits. Everyone wins.
Another good game was a peanut scramble. Perhaps you could do that with some sort of tiny prepackaged snack. Give a prize for the most collected and mark one thing with a special mark and give a prize for that.
For Xmas I used to wrap a tiny thing like a wrapped carmel or something in at least 30 layers of wrapping paper -- at least one layer for each kid in the class. The final gift should be about as big as a shoebox. Play a hot potatoe game -- kids pass the package to music, and when the music stops they take off a layer of wrapping paper. I used to do this with grade 2, and they would never believe that I would have put on as many layers as there was. I used to rig the game a little bit and make sure that I stopped the music so that every kid got a chance to take off a layer of paper. This also was very hilarious, although I went to great lengths to tell them that it was a TINY gift, so that in the end, no one felt bad that they did n't get the gift. The game was just too silly.
Another good game was a treasure hunt. They go in teams of 4 or so, each team has a set of clues -- about 4 of them. You give them the first clue, and they have to solve it to get to the second clue, and so on till the 4th clue takes them to the "treasure" which is some small prize for each kid in the group. I used to give a balloon for each kid, each team had a different color. I used to make the clues rhyme, because we had a story in our readers that had the same game. You make the clues so that they have to figure out where to look ie "Look for clue 3 where ice cream used to be", and then the kids have to look in all the ice cream pails in the class room that might be used for storage of counting blocks or crayons or whatever.
Louise, Nipawin, Saskatchewan
By payjen (Guest Post)
October 4, 2007
0

found this helpful
How about Mummy May I or Pin the tail on the Pumpkin or Monster Mash dance contest - to the tune of the same .
By lisa (Guest Post)
October 11, 2007
0

found this helpful
Have the kids make their own masks or things to hang on the wall. Games like bobbing for apples (instead of bucket of water have apple hanging up).