This is made of scrap wood, a scary mask, recycled children's clothes and shoes. It looks like a small child with a big mask.
Approximate Time 1 hour
Supplies:
2 - 1 1/2 to 2 inch wide scrap lumber for the body and arms
Hammer
4-5 small nails
Child's long sleeved shirt
Child's long pants
Old child's shoes
Scary mask
Child's gloves
Misc. Halloween items for accessories
"L" brackets - 2
screws
Board for the platform
tacks
Bricks
Instructions: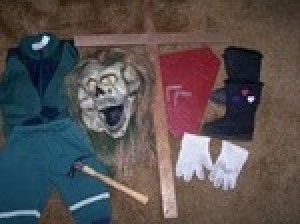 Put the board you are using for the arms inside the sleeves. The lengths you use all depends on the size of clothes you are using. The wood I used for the arms is 24 inches long.
Attach the gloves on the end of sleeves with pins.
Put the board you are using for the body inside one leg and nail the pants to the wood using a small nail at the waist thru the pants fabric. Also, put one in the back to hold pants up. The wood I used for the body is 36 inches long. One pant leg will be hanging while the other will have the board inside.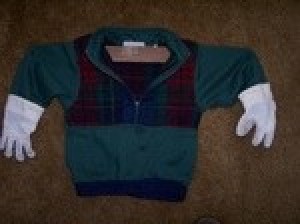 Another way to do it is to attach the body board to the platform with "L" brackets and screws. Then attach the pants to the front of this board at the waist. However, this way the wood sticks out in the back and it doesn't look realistic.
Nail the arms stick to the body stick about 26 inches up from the bottom using several nails.
Stuff the shirt, arms, legs and sleeves with plastic bags to give the body some shape.
Set the mask on the top of the body stick. Attach it with some tacks.
Set the shoes or boots inside the pants legs and on the platform so it looks like a small child standing there.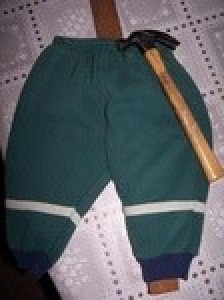 Nail or screw the shoes or boots to the platform when they are where you wants them. You can screw into the platform from underneath the board or lift the pants legs up and screw from the top down through the shoes and the board.
Hang a Halloween necklace on him. A pumpkin or bag or basket. Add a witches hat.
You can also drape a large piece of light weight fabric around the shoulders. This blows in the wind and looks scary too.
You may want to put several bricks on the platform. The wind sometimes knocks them down. This will help keep them up.
By Donna from Millbury, OH