The instructions are quite simple. First go to the fabric store and pick up a couple of yards of white felt and 1/2 a yard of bright yellow felt. You also need store bought materials for being a devil, such as the the red horns, the tail and the pitchfork.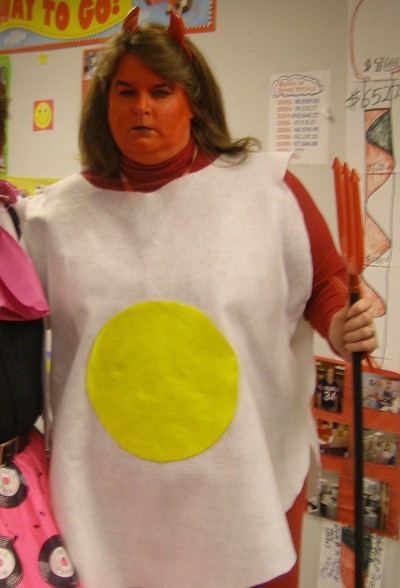 Fold the white felt in half (it usually comes this way from the fabric store). In the center of the folded of felt, holding it up to your body, cut a semi-circle big enough for your head. Measure the folded white felt to your body and making certain it is big enough to cover your stomach area, cut an egg shape. Once you have your egg shape, try the white felt on your body.
On either side, cut holes for your arms. Either you can pin the sides to close or you can put a few stitches by hand. Using a bowl large enough to resemble the yellow of the egg, trace the bowl onto the yellow felt. Cut out the circle. Glue the yellow felt circle to the front of the white felt. The egg portion is done.
For the devil portion, wear a red turtle neck and red sweatpants. Paint your entire face red with red face paint.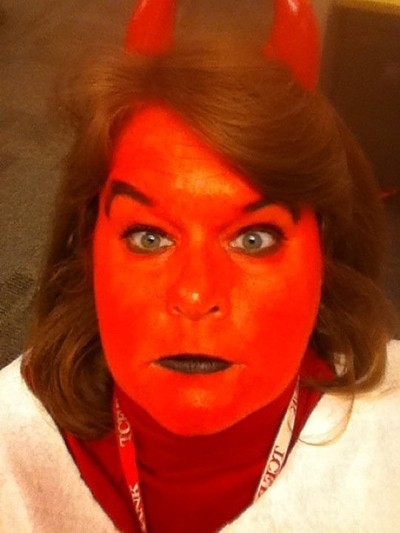 Attach the tail to the back of the egg with a safety pin. Wear the horns and carry the pitchfork and the deviled egg is all ready! For effect, the yolks on you, literally!
By Laura Lange