For the woman, wearing black pants and black sweater, using a 3 inch wide yellow ribbon, I made a "Miss America" type banner, and put sticky letters on it saying "GOLD DIGGER" and draped that over one shoulder and secured it over the opposite hip. Using some old flashy, big diamond-type pins, attached several to the sweater.
I spray painted a small fold-up camping shovel gold, added a flashy ribbon bow to the handle and glued some computer generated money to the shovel blade. Also carried and wore flashy jewelry.
For a couples team, I made two computer generated signs that I laminated, made holes in each sign and threaded some yarn through the holes to be worn as a placard over the shoulders by the man.
Decorated a small pail with computer generated money and glued that in and around the pail for the man to carry.
Also made some computer generated money that was taped randomly to both the man and woman's clothes.
Strutted ourselves, arm in arm around the circle for judging.
This was a first place winner in 2004.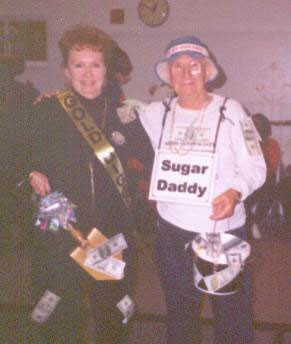 By Syd from Dunkirk, MD