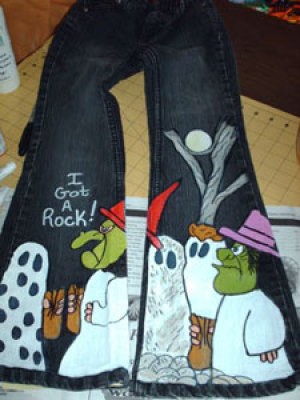 Transform those old jeans/overalls/skirts, etc into Holiday Wear. With this EASY Project for lasting results of enjoyment. All you need is a scene of your choice (here I did The Peanuts Gang with Charlie Brown receiving his bag of rocks) a fabric item of your choice (100% cotton items work best) a few simple paint supplies some old news papers an plastic container with some water and an old rag for clean up of your brushes between painted drying times.
Approximate Time; 8 Hours
Supplies:
Fabric Item Of Choice (I used jeans)
Acrylic Paints
Paint Pens
Textile Medium
Assortment of Paint Brushes
Permanent Sharper
News Papers
Water In Container For Cleaning Brushes
Old Cloth For Drying Brushes Between Painting
Instructions
Step one is to lay out your fabric item and put old newspapers between the front and back of what your painting so the paint does not seep through to the other fabric. Look at a coloring book or a clip art picture for the scene you wish to create. Free hand the design to your item with a permanent sharpie marker. Any color acrylic paint you use, add 1 part paint to 2 parts of Textile Medium (this can be found in any craft store it transforms acrylic paints into a washable Fabric Paint). Begin with brushing on a coat of white paint to ALL areas of your scene, and let dry. This step will let you use less colored paints and will make your COLORS POP.
I stated 8 Hours for completion of this project it may be less, paints dry between each coat within an hour or two. After your ALL Over White Coat has dried you then brush on your other colors to each area, let dry. Then the last step is to use your FINE point paint markers or sharpie for outlining and finished details, just like you did in school when coloring. Let your finished fabric item dry for 24 hours, then heat set it by putting in the dryer for about 10-15 minutes. Always wash your item in cold water on the delicate cycle and do not use any bleach or bleach additives during washing. Then enjoy and receive lots of compliments.
When picking a theme as I did here, these items can be worn during the holidays. And in this case these will serve as your costume, I like to add a phrase to my item. In this case, the phrase "I Got A Rock" was written above Charlie Brown with a white paint pen.
Happy Halloween EveryOne!
By Julie from Tenn
Read More

Comments
This is an easy, cute craft! Just cut a bat shape out of black construction paper, glue on some googly eyes and a red mouth. Glue a clothespin to the back and let dry. You can make tons and clip them anywhere and everywhere!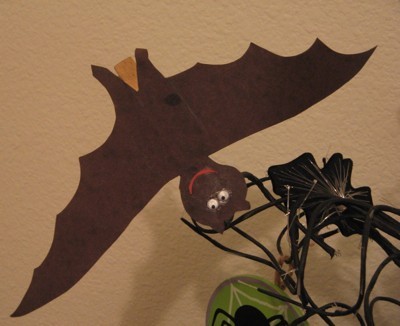 Read More...
For next years Halloween bags use on sale Halloween printed material to make little pillowcase loot bags to carry candy in, or make smaller rectangular ones to give candy out in. Most fabrics are on sale now for $1 or less and one yard will make several bags. By Melanie