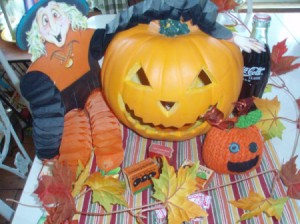 I was the youngest of five sisters, a little PEEP, a CRY BABY, the RUNT, sometimes a DUM-DUM and sometimes a SMARTIE.
Our mom was full of CHARMS and stayed at home, providing us with lots of love and KISSES.
My father was a real SUGAR DADDY. We weren't wealthy or living high on 5TH AVENUE and we never received an allowance on PAYDAY, but we always seemed to have enough for NOW AND LATER so we weren't SOUR BALLS since we always had GOOD AND PLENTY to eat.
We were a creative family and one of my favorite memories are of my Halloween of the past. Although sometimes we were sometimes AIRHEADS, my sisters became the THREE MUSKETEERS for this night!
They became CRACKERJACKS at homemade costume design, handcrafting wardrobes using miscellaneous items around the house using anything: sheets, CANDY BUTTONS, BOTTLE CAPS and spots of makeup DOTS on our face and bodies, ultimately making of us looking like 100GRAND!
I felt that my sisters were LIFESAVERS, helping me create homespun, unique costumes, as all our neighborhood children did back then. There could be characters from BABY RUTH to O'HENRY, we were such a creative bunch! No boxed costumes for frugal us back then!
I would collect a huge bag of candy that my GUMMI little hands would usually drop, due to it's weight (since I had BUTTERFINGERS)causing CHUCKLES from my sisters.
They would call me an AIRHEAD then help me SCOOTER PIE back home for supper to have some hot dogs and BOSTON BAKED BEANS.
On the way home we would look up and see the beautiful MILKY WAY, and STARLITE (or sometimes STARBURSTS) as we passed our BIG RED mailbox at home.
Those were magical memories for me. My mind would be a little FIZZY and I definitely had a rumbling JELLY BELLY by the end of the night.
I love my homespun but magical Halloween memories and hope that the kids still enjoy it as much as we did as children! I also hope you recognized some of our old candy treats in this post!
Wishing you all the magic of this Halloween Season!