These "Pumpkin" Cupcakes are not pumpkin flavored but a festive cupcake for either Halloween or Thanksgiving.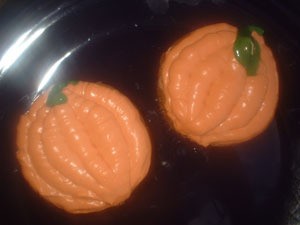 Ingredients:
Favorite spice cake recipe
Food Coloring
Green gel frosting
Icing Bag (optional)
Cream Cheese Icing:
(My favorite recipe found on Thrifty Fun):
1 8 oz. package of cream cheese
1/4 cup honey
1 tsp. Vanilla
Directions:
Make cup cakes according to recipe or package directions. Bake and cool.
Make cream cheese icing by mixing together cream cheese (softened), honey and vanilla. Mix well. Add red and yellow food coloring to make the frosting orange. Place frosting in a icing bag with a flat ribbon tip.
Frost the cupcakes with ribbon tip to make the shape of the pumpkin. I would have a practice cupcake to work with that you can scrape the frosting off just to get used to working with the frosting and moving it in the way you desire.
Another possibly easier way is to frost the cupcakes and use a butter knife to make the lines.
Using the green gel icing make the stem of the pumpkin and a leaf if desired.
Variation: Use black frosting and draw a Jack-O-Lantern face on them!