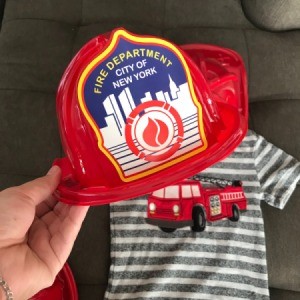 A kid's firefighter Halloween costume is about $25 to $35. The costume will only be worn for a few times this month and just for a couple of hours.
Costume will be worn to perhaps:
School
School Carnival
Trick or Treating
Then, by next year, your child will probably outgrow their costume or change their mind about their costume choice.
If you're on a budget or want more Halloween thrifty outfits, you could buy your child a fire truck shirt! The shirt can be worn for many uses! You can find many stores that sell fire truck shirts for less than $6 with free store pick up right now!
To complete the costume, you can stop by any local fire-station and get yourself a hat, it's free (and the hat will have more uses at home when playing pretend)!
Optional: If you want to get crafty you can make a fire hose with pool noodles, or make any fire fighter tools with household items.
Example of shirts for less than $6 and you can score Free Same Day in Store Pick Up:

*The shirt attached in the photo was purchased at K-Mart on sale for $5.39.