Raven Masquerade Costume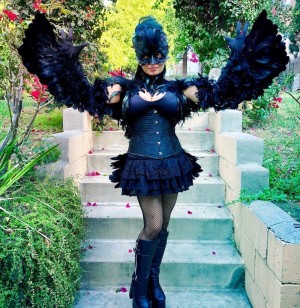 You can make your own fabulous raven masquerade costume for fractions upon fractions of what you'd have to pay for one in a specialty costume shop. I added a boa and feathers onto long black gloves, onto some fabric, and spruced up a cheap 99 cent store mask. It's so rewarding to make your own costume. Have fun!
*One of my best friends let me use his arms so I had a guide (bless him). If you're going to use someone's arms as guiding points, please pull their arms and hands out of the glove before you apply any hot glue.
Yield: 1 outfit
Source: I made this up on my own with no resources. :)
Supplies:
1 thin black boa
scissors
hot glue gun with glue
long black gloves
needle
black thread
200 natural black feathers (goose and rooster are good options)
2 yards black fabric
cheap black bird mask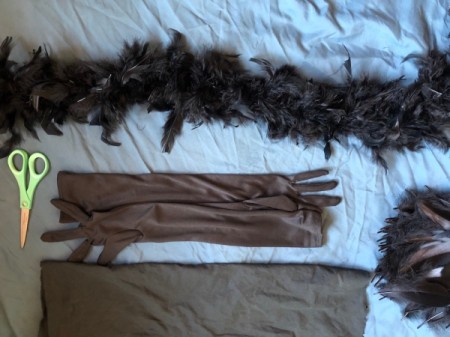 Steps:
Fold the boa in half to find the center then cut in half. Dab hot glue to the cut ends so the cord doesn't unravel.

Hook the loop end of your boa around the pinky finger of the glove and sew into place.

Sew the boa all the way up the bottom seam of the glove. Leave the excess hanging off the end of the glove. You will use it later.

Lay out your feathers in piles by size. I also made a pile of wispy feathers and irregular feathers, all useful.

Take a medium feather and fit it into the loop around the pinky. When you like how it's sitting, add a dab of hot glue on the base of the feather on top and glue it up under the boa loop.

Add another medium feather next to it and glue into place.

Work your way across the boa, gluing the feathers under it. You will only need a tiny dab of glue. I started using short feathers when I got near the end of the glove to give it a tapered look.

When you're done with the first row, add glue to a longer feather from the base a couple inches up. Gently attach it between two feathers at the start of row one. It will cling on like a magnet.

Keep working your way across, angling and panning the longer feathers out.

Take the longest feathers for your third row and make sure you fill in any gaps.

To give a beautiful fanned out look, glue some long feathers onto the outside of the pinky and ring finger on the glove. If some areas seem a bit heavy, go to the seam of where the boa meets the feathers and sew them into place.

Turn the wing over so you can see what they look like from the back. If you see any bits of quill popping out, you can trim them. I covered some areas up with loose bits from the boa, but overall the wings looked near perfect.

The tail part will be tucked into your whatever you're wearing on the bottom. Cut out a piece of black fabric so it's a little wider than your backside, from your waist to just above your knees. Leaving an inch or two free at the top, glue medium length feathers onto each side, pointing diagonally downwards.

Add a second layer of longer ones onto the first row.

Do a mirror check. Tuck it into your whatever you're wearing on the bottom and check if you can see the feathers fanning out from behind you. If not, add a third row. Trim the bottom wherever you'd like your tail to end, then continue adding feathers to the outside.

For the neck and shoulders shawl, you'll need two 1" strips about 2 yards long. Glue the more wispy feathers (rooster feathers are great here) onto one strip on both sides of the edges. Sew the second long strip of fabric on top.

My cheap bird mask was super rugged so it needed some help. Trim off any loose strings and materials.

Add tiny dabs of hot glue to short feathers and apply to the mask above the eyes, fanning them out.

Here are all the pieces you made! Now, here's how to put it all on! First, put on your main bits of clothing: bottoms, shoes, top. Tuck the raven tail into the back of whatever you're wearing on the bottom. I tucked mine into my skirt, then put my corset on to keep it locked in.

To put the shawl on, find the very middle and make sure that's the point that meets the back of your neck. Wrap forward over your shoulders, then tie behind you above your waist. Put the mask on your head. The wings go on last. Gather the inside of the glove where there are no feathers attached and stick your fingers in, being extra careful with the pinky and ring finger as they have feathers attached. Pull the gloves up. Tie the excess boa pieces behind you or tuck into your top. It gives it a much fuller look than just cutting the ends off.
Add your voice! Click below to comment. ThriftyFun is powered by your wisdom!

likekinds
Gold Post Medal for All Time! 523 Posts
November 3, 2018
0

found this helpful
Shades of Edgar Allen Poe. What a show stopper! Your adjective 'fabulous' is an understatement.
I have to say, 'There's quite a bit of work and time going into the costume'. But for that once in a lifetime gala when you really want to knock 'em dead, this is perfect.
A A Greenberg and Edith Head, step aside!

November 3, 2018
0

found this helpful
Why thank you, kind sir! It was about 6 hours work in total, but do keep in mind that I made this up as I went along. I had guides to work with. I figure if someone follows my instructions, it could take more like 4 ;) KAWWW!

likekinds
Gold Post Medal for All Time! 523 Posts
November 3, 2018
0

found this helpful
You are too much!
Add your voice! Click below to comment. ThriftyFun is powered by your wisdom!
Published by ThriftyFun.
© 1997-2022 by Cumuli, Inc. All Rights Reserved.
https://www.myfrugalhalloween.com/Raven-Masquerade-Costume.html