Keeping Trick or Treaters and Pets Safe on Halloween

Cricket
Bronze Post Medal for All Time! 205 Posts
Halloween is around the corner, and people everywhere are looking forward to being scared and dressing up in costumes. The same is not true for dogs or cats, however. The mischief for which the holiday is infamous present a myriad of potential dangers that can take dogs, cats, and their owners completely by surprise.
If you want to include your dog in your Halloween celebration, make it an event that is safe and enjoyable for both of you. Here are some tips:
People love Halloween candy and so do dogs, but while candy is a great treat for us, dog owners need to make sure that it's not accessible to their animals. Most owners know that chocolate is poisonous for dogs, but so is almost everything else that you'd find in a trick-or-treat bag. Artificial sweeteners, raisins, and other candy items can mean serious health hazards or even death for dogs. The wrappers can be ingested and cause choking. Keep healthy, natural-ingredient dog treats on hand for your dog and other dogs that might show up at your door. Just before opening the door, you might give your dog a tiny treat.
Your dog potentially could be hit by eggs or other thrown objects if left out in the yard alone. It's better to be safe than sorry. Keep your dog safe from Halloween tricks by keeping it in the house and not alone in the yard.
If you're having a party, make sure your dog is in another room. Dogs are curious about strangers in the home, and even familiar people can cause confusion and stress when dressed strangely. Dogs may be frightened by unusual costumes, especially those with flashing lights or odd sounds such as a monster voice or high-pitched witch's screech. A party also presents additional food challenges. Make sure the human treats, especially alcoholic drinks, are not accessible to your dog.
Decorations and dogs are usually a bad pairing. New objects in the house are likely to arouse your dog's or cat's curiosity, and it could get tangled on light cords or accidentally knock over candles. Cornstalks and pumpkins look great outside, but could be tempting chewing material if within your dog's reach in your home. If your dog swallows any of these substances, it might suffer an upset stomach or more serious intestinal problems.
If your dog is OK with wearing a costume, make sure the costume is comfortable, not too warm, and doesn't have any parts that could be chewed, swallowed, or tripped on. Have your dog try on the costume a few times before the big night, and if it seems uncomfortable, allergic, or frightened, don't force the issue. A Halloween bandana or an orange collar and leash are good alternatives for dogs who don't like costumes for elaborate costumes. Most dogs are OK wearing sweaters, so if you do buy a costume for him, make it one that resembles a sweater in the way it's made. And make sure there are no flashing lights or noises on it either. They would only frighten your dog.
Many people will put their dog in a bedroom or another room while trick or treaters are coming. Although the idea behind this is good, it's actually worse on the dog. Keeping your dog in another room when the doorbell is constantly ringing is extremely upsetting for him. The dog is simply trying to protect it's owners and by putting him in another room you are stopping him from protecting you and the dog will get even more upset every time the door rings.
A better method is to barricade a section around the front door, or to barricade a section of the living room. The barricade will make it so that the dog can not get to the door, but it can still see who's there. Teach the dog to quiet down when you tell him he's barked enough. I taught mine (by squirting them in the butt to get their attention, then saying "enough" very sternly till they hushed. It didn't hurt them at all and they learned quickly, only a few squirts. After that all I had to do was pick up the bottle. They are allowed to bark at the door until I open it and then I say "enough", then they quiet down. The dog needs to see that you are safe and there's no danger at the door.
Cats on the other hand, should be put in a bedroom, but I usually set up a table or chair for her to sit on at the window if she wants. This way I don't have to worry about her scooting out the door if she gets scared with all the commotion at the door. And she can watch safely, but leave the window as she pleases.
By Cricket from NC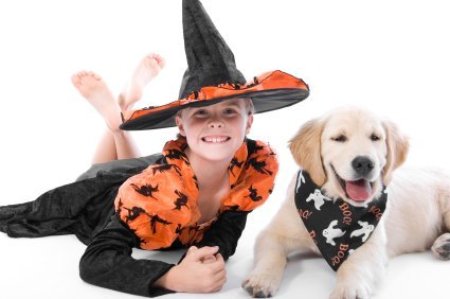 Add your voice! Click below to comment. ThriftyFun is powered by your wisdom!
October 30, 2016
0

found this helpful
Sad to say, but some people think of cats as companions to witches or sinister forces-- especialy, but not only, black cats or mostly black, and especially on Halloween. Cat parents should think about protecting their cats from mischief, or worse.

October 30, 2016
0

found this helpful
Sad to say, but some people think of cats as companions to witches or sinister forces-- especialy, but not only, black cats or mostly black, and especially on Halloween. Cat parents should think about protecting their cats from mischief, or worse.

Catherine
Bronze Feedback Medal for All Time! 131 Feedbacks
October 31, 2021
0

found this helpful
This is my trick to make my cats come back to the safety of my home quickly.
It is very useful, when you move house or when you take cats for a few days to a place they are not used to, on a national day too, if celebrated with long firework explosions strong enough to scare a cat and make it run away, lose his way or hide away for days. It is also useful to make the cats come home and stay there on the days of the waves of holiday departure to make sure that the cats will not get locked in a garage or some house of neighbors going on holidays for a month or even just a week which is long enough for a cat to be in great danger if left without water. Here's how I do this.
My cats are given food only once a day in the evening at 8 o'clock. They eat up quickly and then I take away their plates and they are not given any other food until the next day. They know that this moment can't be missed, it is the only food time so it is very important. The trick is to associate this moment with what the cat will best imprint and it is not the smell of food. Cat owners surely have already noticed that when you drop a little piece of food on the floor the cat will not always find it unless he saw it or heard it fall. To make the cat register that food special time you have to call on the cat's sight and the cat's hearing. Since they were kittens (but it can be taught easily to an adult cat) at eight o'clock sharp in the evening I open the window and I use a manual dynamo powered flashlight it makes a unique noise and gives a blue LED flashing light. The cats hear it from far and also see the blue light in the dark or even in full day light. If the cats are inside I use the lamp even inside the house anyway. When one of my cats is missing I do not even have to wait for 8 o'clock to go and look for him. I go in the neighborhood with my dynamo powered flashlight and the missing one comes running when hearing the noise of the flashlight because for the cat the noise and the light mean food. You can add other noises like the shaking of their dry food box or the noise of a clicker used to train dogs and of course call their names, but keep walking the cat will come to you because cats are like children if he saw you he believes that you saw him too and he will stop meowing and take his time. Do not think that doing this you are starving the cat on the contrary, according to the vet this is good for its health because first, when food is left available to the cat all day, if you have more than one cat you will not notice quickly enough that one of them has stopped eating and needs care because the other cat is eating its part second, dangerous bacteria develop in wet food but also in dry food even in a fridge and third a cat is not made to have food available anytime, like all felines he is a hunter and is not made to digest all day long, they are used to hunt after sundown and sleep the rest of the time and this timing is innate.
Add your voice! Click below to comment. ThriftyFun is powered by your wisdom!
Categories
Pages
More
Sub-Categories
Published by ThriftyFun.
© 1997-2022 by Cumuli, Inc. All Rights Reserved.
https://www.myfrugalhalloween.com/tf82248298.tip.html